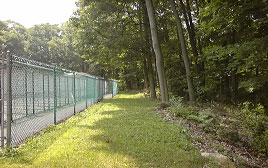 Boarding at Northcliff Kennels goes well beyond "pet-sitting." Our first priority is always the safety and comfort of your valuable furry family member. But, we also take extra-special measures to insure your pet never becomes bored or lonely.
Whether your dog is exercising in his run or your cat is playing in her "cat condo," there's always something going on at Northcliff Kennels. When your pet stays with us, you can travel without worry.
---
Dog & Cat Accommodations – we have 52 individual rooms with indoor and outdoor runs for dogs. The outside exercise areas are up to 20 feet long with sealed surfaces for comfort and sanitation. Tall trees growing nearby provide your pet with shade while outside.We also have oversized enclosures in our cattery that are completely separate from the canines.
Our 3-level "cat condos" are large enough for 2 of your cats to share. Each feline guest is given the run of our large cat room twice daily under supervision. This is our way of making sure your cats receive adequate exercise. And we throw in a warm hug everyday just like they get at home!.
---
A Friendly Reminder
The following vaccinations are required for boarding with us:
Dogs:
Cats:
Rabies
Distemper
Feline Leukemia
A current Certificate of Vaccination is required at pet check-in.
---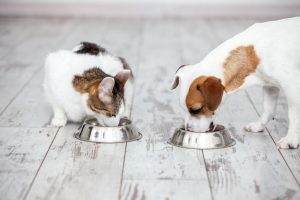 Your Pet's Diet We carry many brands of food so every guest at Northcliff can have the same diet they receive at home. This not only makes your pet's stay with us less stressful but usually prevents digestive problems. If we don't carry the type of food your pet usually eats, you can provide and it we'll feed your pet according to instructions.
For finicky eaters, we cook up our famous "stewed hamburger" daily which most dogs and cats find irresistible! A lot of visitors to the kennels have asked, "What's that wonderful smell coming from the kitchen? Can we stay for lunch?"
---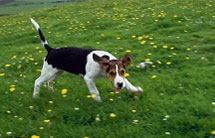 Pet Medications We also can give your pet their regular medications and vitamins. If you supply them at registration, we will give them to your pet according to your instructions.
Flea & Tick Prevention For your pet's comfort and safety, all admissions to the kennel will be checked for fleas and ticks. There will be a charge for any required flea or tick baths. We recommend heartworm and flea preventative given year round.
---
Veterinarian On Call Our experienced staff is continually alert to problems and will always call your own Veterinarian for routine matters. In the event of an emergency, a licensed Veterinarian is always on call.
Our Special "Walk and Play Service" Weather-permitting, your pet can be hand-walked and exercised daily in one of our special outdoor enclosures or around our park-like property. As one of our guests, your best friend receives one-on-one attention from our staff members, giving them a chance to run, play and really enjoy the country life. Your pet will love it! (Additional charges apply)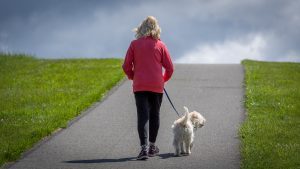 ---
Northcliff Kennels Pre- Boarding Checklist
You'll need these items to check-in…
A current Health Certificate from your Vet
Your pet's bed or blanket
1 or 2 of your pet's favorite toys
Food, if we don't carry their specific brand
Any vitamins or medications
Your dog's collar & leash